Adventure Plus keen on personal development though execution of interactive environment. We sharpen peoples' potential with enthusiastic atmosphere with customized, innovative learning environment.
We believe "Learning by doing" a symbolic solgan of experiential learning inspire people potential by integrate thinking, feeling and action drives people live with synergy .
 "We inspire clients with passionate heart and creativity mind develop a tangible ways to access ways to success"
Teamwork and leadership, Communication with creative manner, setting goals, pursuing lifelong learning, is our core value of out programme design. We increase clients incentive knowing how to well-plan, thought-provoking, by transforming our programme experiences in life-long pattern.
Our programme consultanting team members are full of creativety and committed their professionalism to benefit the clients by their passionate and skillful faciitation. We guide our clients in a full of enjoyment and meaningful setting to achieve a revalent experience to incorporate their real-world situations from our people logic towards designated outcomes.
Corporates
Programme setting
Our design flow are "We care people by people" to sharpen people's potential assist compose with particular setting such as teamwork, leadership, manage to change, and innovative. The programme ingredient mixed a lot of corporate cultures and knowledge into innovative activities. Our delivery team devoted themselves in developing programme, continuously invent a lot of fresh and innovative programme for client's options.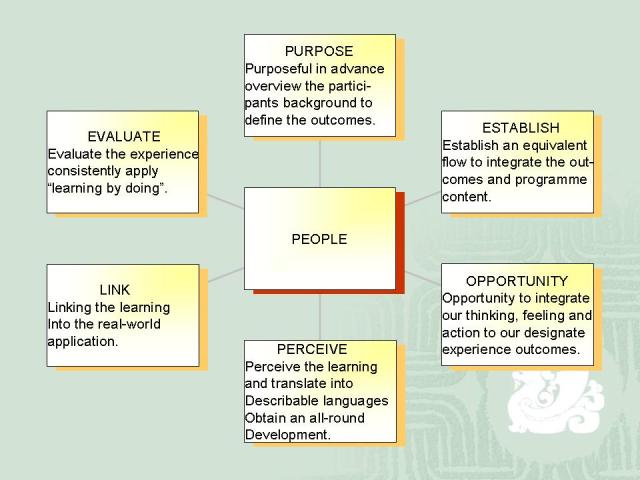 Based on People telling us what is "People" wants, we will start to develop our programme by merging our concept combine different setting in an effective programme